Get the Facts

How Screening Works

Advice & Support
Learn about the newest members and what led to their interest in newborn screening. The Consumer Task Force will begin their training and outreach projects this month.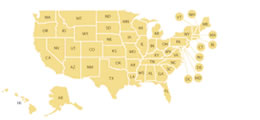 Newborn screening varies by state. See the requirements for your state.
See why sometimes a baby's screening result will be out-of-range, requiring a confirmatory  test. It is very important to get this test promptly.
We have detailed information about the 56 conditions for which newborns are screened.
What you need to know to discuss your diagnosis with a health professional.
Get the latest newborn screening news, share stories, and connect with others!
The APHL Newborn Screening and Genetic Testing Symposium was not only well attended but was also well structured, including family stories...
About Baby's First Test
Learn about our initiative. »
The latest research, news and funding opportunities »