About Us 2023 Newborn Screening GRACE Award Recipient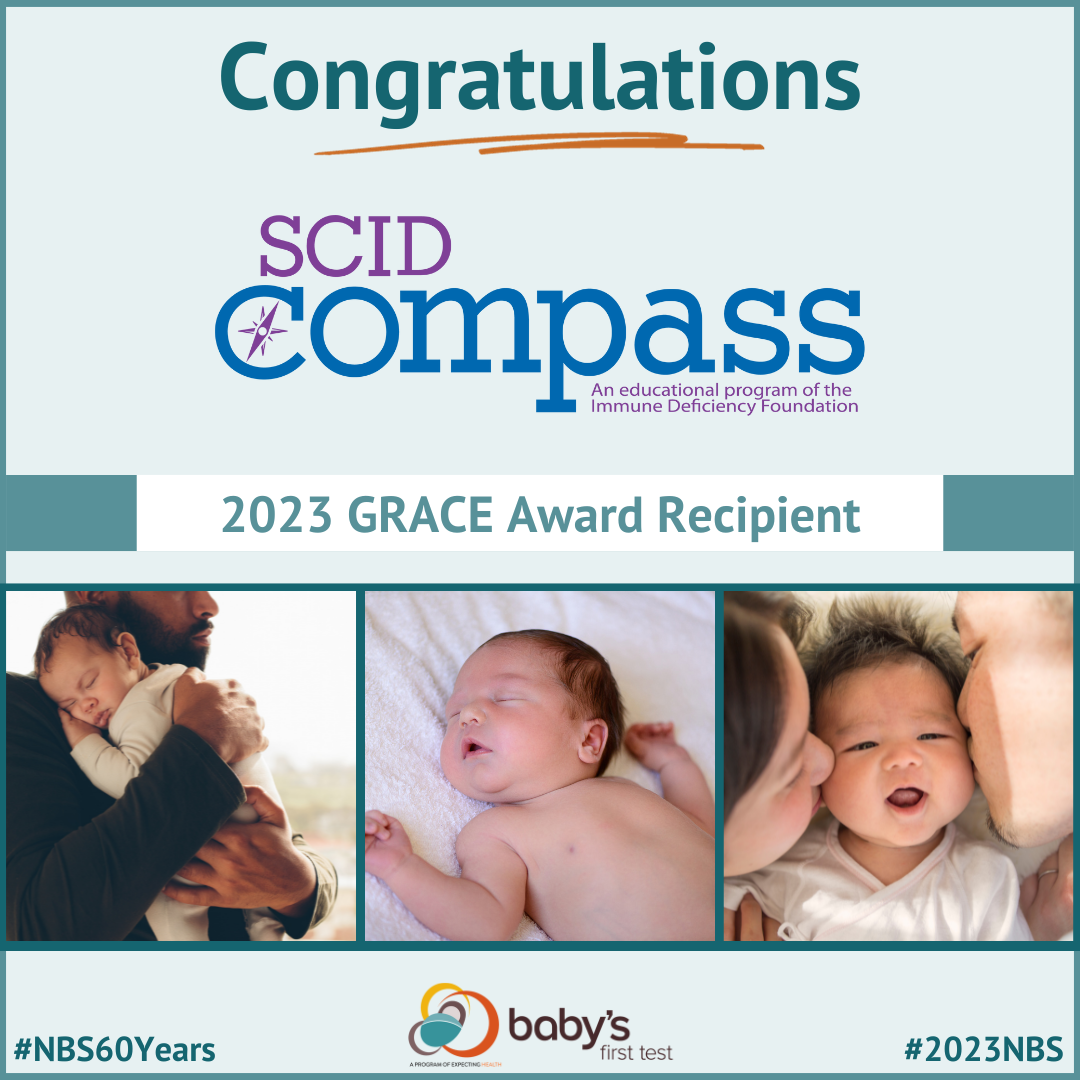 In the three years since the introduction of the Generating Real Action by Cultivating Engagement (GRACE) Award, we have seen increased interest from teams wanting to share the innovative ways they authentically and gracefully engage families and communities within newborn screening. With each application cycle, we are introduced to or become more familiar with the foundations, organizations, initiatives, and programs committed to including families from start to finish, ensuring that their voices are heard, their input is valued, and their needs are met within newborn screening and beyond. 
After careful consideration by our esteemed selection committee of newborn screening stakeholders, we are pleased to recognize the Immune Deficiency Foundation's (IDF) SCID Compass program as the 2023 GRACE Award recipient! The SCID Compass team has intentionally engaged families in all aspects of their program to ensure that families and caregivers have access to the information and resources needed to improve the outcomes of children born with SCID.

A Word From the 2023 GRACE Award Recipient

Newborn screening for SCID became mandatory in all 50 states and territories in 2019, the same year as the launch of the Immune Deficiency Foundation's SCID Compass program. This transformational project united stakeholders from across the United States, including parents, public health laboratories, research institutions, and patient advocacy groups, to build family-focused, research-supported resources for parents and professionals related to newborn screening. The family perspective was infused into all aspects of this program. SCID Compass has made a more significant impact because of the stories, input, and feedback from parents, caregivers, and adult patients who have navigated a SCID diagnosis.

Register here to join us on Wednesday, September 27 at 1:00 PM EST and learn more about this program's incredible work and their exciting plans for the future.
Questions? Contact Dr. Eboni Drummond.
Your input helps us improve the site for parents and practitioners. Leave us feedback about this page.
Was this page helpful?
Your input helps us improve the site for parents and practitioners. Leave us feedback about this page.
We're sorry to hear that. How can we do to improve it?
Last Reviewed - September 2023
Ask an Expert
Have a question that's not answered on Baby's First Test? Send it to our experts.