Newborn Screening Resources
Engaging Spanish-Speaking Families in Newborn Screening
Produced by Baby's First Test
TYPE: Educational Tool
PUBLISHED: Tuesday, January 9, 2018
CONDITIONS: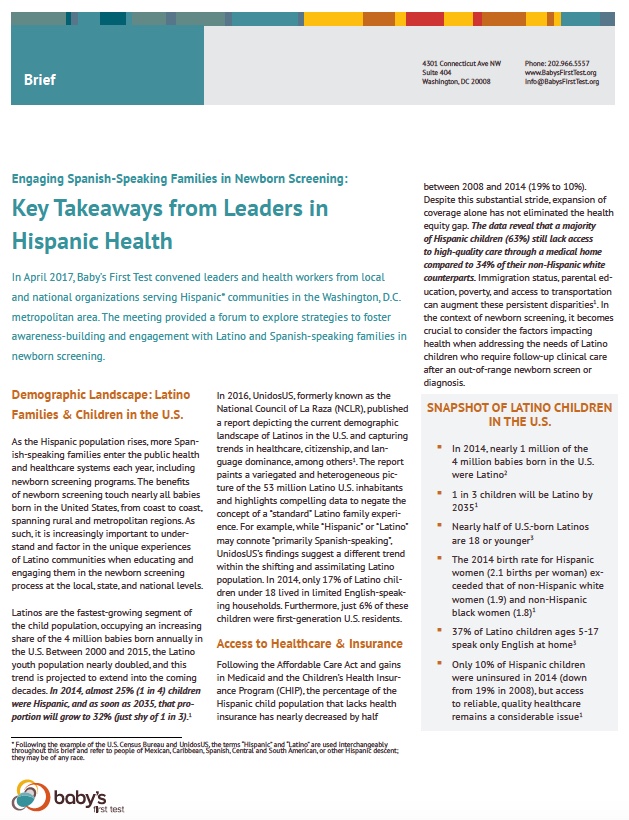 On April 24, 2017, Baby's First Test convened leaders from national and community-based organizations in the Washington, DC area for a conversation on engaging Hispanic and Spanish-speaking families in newborn screening. With participants from Mary's Center, Family Voices, and La Clínica del Pueblo, strategies were discussed on how to more effectively reach families and connect them with culturally resonant newborn screening information.
This brief describes the growing presence of Latino children in the public health and healthcare systems, summarizes the takeaways of the meeting, and poses recommendations for Baby's First Test's educational efforts with this community moving forward. Contributions from meeting participants will inform future program activities, including efforts to improve the cultural responsiveness of Spanish.BabysFirstTest.org.
Your input helps us improve the site for parents and practitioners. Leave us feedback about this page.
Was this page helpful?